Discover more from Wandering the Grey
Vulnerable reflections on travel, food, and work from a former Silicon Valley engineer pursuing a creative career. Escape and reflect with a wanderer.
What do you expect from airport food? 
I'm still scarred from the sad, single slice of pizza I bought for $9 in Abu Dhabi airport during a layover. It was limp, soggy and yet, the best available option in the cafeteria. The other contender was the anonymous "curry" that looked like it had sat in the metal tray for a week. A few fancy restaurants were bustling with tourists but I didn't have the time, nor appetite for crowds to deal with those. I considered Burger King—but even that had a limitless line. So I resorted to this soggy mess—I don't even love pizza when it's good…but this sufficed. Sigh.
So I don't expect much from airport food. At most, it's a mundane meal to tide me over until I reach my next destination.
Well, this is how I felt…until my first bite at Bangkok Airport turned my culinary expectations upside down.
Breakfast
It's the kind of food I love to cook—lucky readers who have dined at my behest can attest to this. Something simmered or stewed so the various elements get acquainted, and gift their essence for the greater good. Curries, braises, stews come to mind. Meals with a pouted posture and unrepentant attitude—their vapors don't ask for permission, they swirl across the house, shaking shoulders to wake people up saying dinner is ready.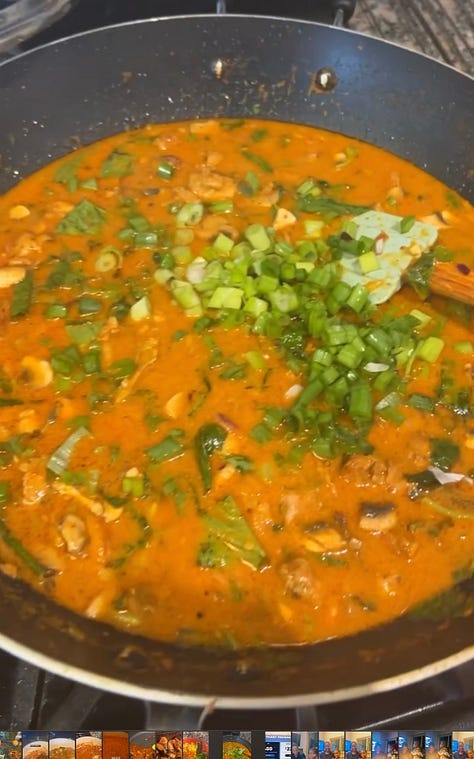 The meal in question was Khao Soi—a Northern Thai coconut noodle dish. If you can excuse three details—shrimp paste (sacrilegious speak, I know), palm sugar (hard to find at Trader Joe's) and fried noodles, then I've made this meal several times. It's a pungent party where every taste bud leaves satisfied. Spicy from the bird's eye chilies used in the red curry paste. The kind that will sting you senseless if you handle them and then touch your contact lenses. Aromatic from the ground up garlic, ginger, lemongrass, and fresh turmeric. Sweetness from the palm sugar, shallots, and coconut milk. Umami from the oodles of fish sauce. It's served with fix-ins for you to accessorize to your hearts delight—chopped cilantro, sliced shallots, pickled mustard greens, fresh lime and nam prik pao (a spicy, savory, sweet sauce). 
The dish was served to me on a standard, white plastic dinner table—the perfect canvas for a mean meal. In a bright open restaurant etched on the third floor of arrivals. If the decor could speak, it would have said "No need to faff about with fancy furniture, we'll let the food do the talking". 
If you were expecting a picture of my bowl, then your standards of me are a tad too high. I guzzled that thing down too fast to capture the moment. But luckily for you and I, the internet is here to save the day. Here's a pic of what it could look like, if not gulped down by a famished tourist. 
I paired the curry with a coconut caffeinated drink because I don't drink enough water in life (I'm working on it) and because it was incredibly cheap. I also wanted to keep my eyes open as long as possible, before the jinn of jet lag forced them shut. Morning was breaking and I had just crossed seven timezones to get to Thailand. After ridding the bowl of its fortune, I sat in pure joy."If this is the start of my trip, then I'm in for a treat". 
Turns out, I was the treat— Bangkok was excruciatingly hot that week, and I felt like a plump turkey basting in the oven, the fat in my skin being rendered for a tasteful jus. The sick chef smiling through the oven glass door and turning the temperature dial higher to watch me writhe in pain. 
I'm Nigerian, I've lived in heat and humidity. As a teenager back then, I remember playing shirtless soccer on the streets and dripping wet BEFORE the match started. But whatever was going on that first week in Thailand was not normal. It felt like punishment. The flight should've come with a health and safety warning. But if you offered me a week of real Thai food with that vengeful sun, I'd take it and burn. 
Lunch
Airport breakfast had set the bar really high, so I was excited for lunch…but I was too busy snoring and rolling around in bed as jet lag scored a mini victory and put a few points on the board. Or so I think—I don't actually remember falling asleep, but I woke up feeling dazed and hungry. I escaped the staunch grip of sleep and groggily dragged myself out of bed. 
The good news is that the vengeful sun had retreated for the day. But I was worried that food options might be running out. Rookie mistake. I wanted to move my feet but I wasn't in the mood for a sit-down restaurant—I set out on a search for takeout. I could stretch my legs and see a bit of the city, then come home to eat and chill. I scrolled through restaurant options on my phone and finally settled on a place. I can't remember why I chose that place because there were so many good contenders. But it was only ten minutes away. Close enough for a jaded, jet lagged ghost to walk. 
The search for a dinner spot
What should've been a quick ten minute walk turned into a sluggish crawl through Sukhumvit road—one of the longest streets in the world. Eventually, I got there and the waitress handed me the menu. I rushed into the menu the way I imagine 1940s Navy men opened letters from their lovers when away at sea. GIVE ME EVERYTHING. I've ordered so much Thai food in my life, that I didn't need the English translations. I know what to avoid and what words to look out for. 
My eyes searched up and down for "moo"—pork in Thai. I was hoping to find "Pad Prik Khing Moo Krob" on the menu—crispy pork belly in red curry paste. Some come with steaming green beans, some are stir fried with holy basil, a gift from the gods. Crunch from the crispy pork. Fatty flavor from the pork shoulder. Concentrated spice from the curry paste. It never misses. All are phenomenal. Listen, if you want to kidnap me, offer me this meal for free. I will tie the bonds myself. 
As I scanned the pages for pork, I got distracted by a more flavorful fatty animal, "ped" (duck). My love story with duck goes back twenty years. As a kid in Nigeria, my family often went to a Chinese restaurant in Sheraton hotel in Lagos and pre-teen Tobias loved to order duck. Peking, roasted, crispy, stir fried. Anything goes as long as you don't boil it. Please no. There is no need for such war crimes. 
Even though I have a soft spot for duck, I wasn't convinced that was the move for the moment. I dug through the menu with the seriousness of a detective poring over a critical clue. Serious business over here. The waitress came back and asked if I knew what I wanted. I pleaded for more time. 
OK Tobi—pick something, it's really not that serious. It's a Tuesday night meal, not a marriage proposal. 
I knew I didn't want pad thai. I haven't eaten it since 2016 when I discovered its superior cousin—pad kee mao (drunken noodles)—aptly named because the heat will slap you sober and puncture a hole in your sweat pores…demanding them to flood at will to keep you cool. 
Dinner
After considering more elaborate dishes, I settle on something simple—rice with a spicy chicken stir fry. The mention of "nam pla"—fish sauce—gives me the nod that I chose well. I order a side of chicken wings as a hybrid post-dinner snack or breakfast for the following day. My bill was about three dollars—I couldn't buy a single taco for that in San Francisco. 
My first thought when I opened the plastic container back at home was…"this looks a bit basic". But when I sunk my teeth into the food, I felt a resounding "hell yes". I have an unrepentant savory palate—so when I tasted the salty goodness of the soy-based sauce, all qualms were extinguished. Alternating diced chunks of red and green peppers offered enough sweetness and bitterness to balance the hints of spice. I embodied my inner Thai self, a persona my grandfather invented when he nicknamed me "King of Siam" after one of his favorite films, "The King and I". True to this title, I ate the meal with a spoon.
The chicken wings were tiny. Which made me wonder if this is what chickens looked like before we started selective breeding on a massive scale. It also made me question what a reasonable portion size is. Food is fuel, and how much fuel did I really need? Those wings had enough calories in them for me to walk home…and fall asleep.
Dessert
I don't have the biggest sweet tooth so dessert isn't really in my vocabulary. But on my way back home, I saw a little side street bursting with tourists on all sides. Several street hawkers were present selling all kinds of happy-looking tropical fruits. I decided to buy something. But there are so many hawkers, how do I choose the right one?
Is there even a right one? Are all fruits here equally delicious or are there are crisis actor fruits hiding in plain sight—pretending to be plump and sweet, while really being rancid and off-putting at their core?
Then I saw a guy. A guy who embodied the kind of energy I aspire to exude. He was buzzing, smiling, laughing and working his stand all at once. I knew his feet were on the ground but he seemed to be dancing in the air, floating in the very space before me. I watched him pick up tropical fruits—mangoes, passion fruit, papaya—dice and slice them into bite-sized chunks and serve them to tourists in seconds with a gracious smile. 
Even though he was serving lots of customers—he somehow made each transaction feel personal—like each serving of cut fruit was diced with little imperfections that were perfectly pruned for you. Edible hand-cut gems. His energy was infectious and warm. In some ways, the fruit was the side attraction. It was dirt cheap, but the richness of his energy—a man doing manual labour at 10pm but doing so with such vivacity and joy—that shone through. 
Small bites, Lasting impressions
Watching that man made me pause for a moment. In my last job, I probably earned a thousand times more than this man, yet inside I often felt unfulfilled and head-heavy. My joys were sporadic, like brief flashes in a dark sea of night—until they stopped flashing on. Yet, here was this man seemingly relishing his manual labor job while earning what looked like peanuts. It echoed a message I'd been telling myself: "Don't resent your days; they're all you have". My days make up my life…and if I hate them, what's the whole damn point of being here anyway?

People travel for many reasons—escape, relaxation, and rebirth. In a single day, Bangkok took me on a culinary journey—khao soi for breakfast, sleep for lunch, chicken stir fry for dinner, and a serving of tropical fruits for dessert. The food was great, but the real takeaway was the indescribable feeling of rebirth. Moments like this helped turn my lights back on. I began to laugh full laughs again. Optimism about the future seeped back into my bones. The "ROI" on my flights—if we must use such language—was feeling myself again and reminding myself that there are many kinds of rich life—that extend outside of the tech/VC bubble I lived in.

You don't have to travel half-way around the world like I did for those reckonings. But I'm glad I did. The energy of that street hawker lives rent free in my head. As I try to figure out the next phase of my life, I want to feel just ten percent of his expressed joy during my days.
OK question for you:
What's the most memorable meal you've ever had at an airport? Did it scar or surprise you in a good way? Tell me in the comments