Discover more from Wandering the Grey
Vulnerable reflections on travel, food, and work from a former Silicon Valley engineer pursuing a creative career. Escape and reflect with a wanderer.
I'm convinced the universe has conspired to put me through wild experiences because it knows I will write about them. Behind the screen, the puppeteer is pulling strings and laughing at me. 
Last Friday, I made my way to the sixth city on my Spanish tour—Seville, the biggest city in Andalucía. I did precisely zero research and took the train down from Malaga. Based purely on vibes, I expected it to be hotter, and luck delivered. While my friends back in SF are battling apocalyptic storms, my calves have been basking naked in the generous sun. 
After my road-raging Uber driver dropped me off at the wrong place, I lugged my suitcase across the block until Rafael, a smiley, slightly balding chap yelled my name. "Tobi! My friend, this way!" We shook hands and he led me into the building. He assured me there was a lift (many old Spanish homes don't have them), but then proceeded to stick his key into the "number one" button. Hmm weird concept. The doors close and a few seconds later: "Welcome to your new home" Huuh? How could the elevator teleport me from the ground-floor of the building right into my apartment? Without a door in between?

He explained that there were two ways to get in: I could take the stairs and open the apartment door (like a normal person), or twist the key into the elevator, entirely bypass the door, and arrive inside the apartment. Weird party trick. Anyway, Rafael explained that I had arrived just in time for Semana Santa (Holy Week), a religious-cultural week-long festival. After a quick-fire explanation of Seville's two thousand year history, he suggested a few places where I could avoid the crowds and still catch any of the sixty processions that would run through the city that week. 
On Sunday evening, I finished up some work at a cafe and was heading home for a Zoom meeting with an editor. Everything was calm, I was listening to the new Masego album. For a moment, I looked up at the blue sky between the old buildings…as my eyes returned to ground level, I noticed a flurry of activity. Hundreds of people poured out of the tiny side streets like pasta water flowing through a sieve. The mood was agitated, restless, excited, and maybe even a little nervous - I know I was. 
Once I adjusted to living inside a circus, I loved the energy. There's a Sevillian saying, "If you don't wear a suit on Palm Sunday, you will lose your hands." So best believe her people came out looking like covers of GQ and Vogue: mamacitas rocking that Naomi Campbell strut, lads in perfectly-fitting blazers, tasteful pocket squares, and popping pantsuits. I wasn't complaining—eye candy is not on my list of allergens. 
Beyond the fashion, there was so much more to see—the camaraderie between adjacent clusters of people, families of all ages: kids, teenagers, adults, grandparents all vibing together, the nearby tapas bars probably selling out a month's worth of revenue in one day, and adults drinking beers while the prudent tried to find a good vantage point to watch the procession. Tourists visibly half-thrilled and yet half-confused about what the hell was happening. A distinct, palpable air of celebration and anticipation filled the air.

All this excitement and I let myself get distracted—suddenly, I realized I was boxed in. I needed to turn right to get home, but that path was completely cut off. My editor was waiting! I found a tiny side-street to the left, and squirmed and elbow-jostled my way through the crowd, until I met a dead end. I kept repeating this game in different directions until I ran out of side streets. The police made it clear there was no way to get across the procession.
At this point, I chose acceptance. I let the meeting go, and let the streets take me back in. My ten-minute journey back to Rafael's place turned into a four-hour ordeal filled with beautiful costumes, sangria-drinking aristocrats, hangry Tobias, candy-gifting children, remorseful Nazarenos, a drunken bar fight, stunning decor, and a temporary feeling of hopelessness.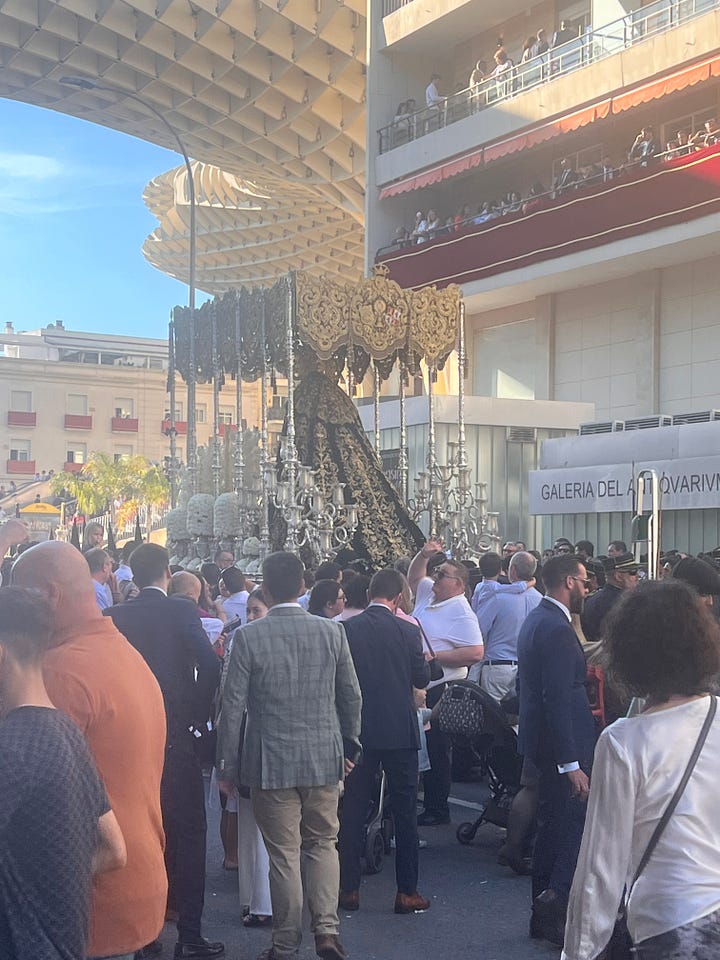 the hats were reminiscent of a certain um, klan
If I showed you the image above, you might mistake the lads in white for an infamous American extremist hate group—I did at first. I didn't see another black person in the crowd, so for a moment, I thought I had been unintentionally cast as the lead of a Jordan Peele movie. While I couldn't get out, I learned these outfits are donned by the Nazarenos to show penance and remorse for their sins. 
Google told me it's a six hundred year old tradition that dates back to a time when people convicted of religious crimes were forced to wear hoods so others would know they had sinned. I saw men draped in all colors - different blues, purple, black, brown—apparently each color refers to a different brotherhood. And each brotherhood is an association that extends from the Catholic Church. All week, they take turns performing their processions and people flock to the streets to watch, clap and celebrate them.
Logical explanation aside and turning off my American lens, it was rather unsettling to see these guys walk into a cafe in broad daylight to order coffee.
sinister game devised by conniving designer
As I weaved and wrestled my way through those side streets, I couldn't help but feel I was a video-game character in a maze devised by a sick, conniving designer. I oscillated between emotional poles—the rush and anticipation after finding a new potential exit, only to be ruined by the confirmation that that too was a dead-end or was blocked off by the police. Eventually, I felt like I was trapped in a humane mousetrap, caged and forgotten, left to slowly wither away from thirst as the homeowner frolicked on holiday. I tried to enjoy the beautiful parade, but wished I could leave when I wanted. 
One of my favorite things about Spain is the abundance of old, tiny, single-lane streets that pedestrians waltz through with the assurance that no bulky SUV will swing round the corner. 
Well, that very design that I love is an absolute nightmare when there's a city wide festival. With thousands of people in the processions and the millions that fly in to watch, we were jammed like sardines in a tin.
knuckles don't scale
Sophia, my friend who moved to Madrid last summer told me a story about how she experienced a bar fight last summer. The Americans on her table instantly ducked, crouched to their knees, and plotted ways to exit the bar, fearing someone might shoot up the bar. Her Spanish friends calmed her: "Relax, they're only going to knock each other out". 
Well, I experienced my own version of that on Sunday. We were at a standstill, packed elbow to elbow and two guys broke into a fight in the nearby bar. Older chap commendably held his own against the aggressor. The whole fight lasted maybe twenty seconds until the police arrived and diffused the situation. They resolved it with authority but no threat of violence. At no point during that ordeal did I think "I'm in danger here", either from the fight or the police. Sadly, if I was in America, I would be sweating bricks.
Aristocrats looked down upon us peasants
Maybe I've watched too many period dramas that depict the wealthy looking down, physically beneath them at their subjects, but this image was striking to me. As the float-carriers break their backs to carry this beautiful paso across the city through an interwoven network of streets, you see the lucky few on the balcony getting the best view in the house. I have no idea if they're rich but they were certainly lucky. Their elbows not threatened by nearby strangers, and their toes not stepped on by people trying to get away.
Each procession sported hundreds of people - the marching bands, the float-carriers, the directors who told them when to lift and when to take a break, the children handing out candy to a select few in the audience. The floats (pasos) are these beautiful wooden sculptures that represent some story of The Passion like the Last Supper. Unlike those of us on the ground, the aristocrats could sip their wine and sangria, then head back inside to wait until the perfect moment when the next procession came through. Yes, I was jealous.
community affair
It's quite common to see three generations of families at a pub or restaurant in Spain. When parents need to go out for  a drink, they simply take the kid (preteen or younger) along and that's culturally understood as normal. In contrast, I can't remember seeing a child in a pub or bar in San Francisco and if I did, I would've thought it was weird. Then again, SF hates children (human ones, at least). Okay, I'm half-kidding. But I read Spanish children don't have set bedtimes. While their parents socialize at restaurants, they play with the children of the other families. 
There was something refreshing about seeing kids and teenagers, perfectly safe, roaming the streets, eating their ice cream and churros. It was nice to see the elder folk actively engaged in the community affair. Which is especially relevant when compared to the dire isolation retirees in other countries often feel. I wonder if this plays into the high life expectancy in Spain.
While the city is beautiful, I got trapped by crowds three times in one week. So I fled to Lisbon in pursuit of freedom.
---
PS - if you enjoyed this piece, please let me know by liking the heart button. Muchas gracias!