Discover more from Wandering the Grey
Vulnerable reflections on travel, food, and work from a former Silicon Valley engineer pursuing a creative career. Escape and reflect with a wanderer.
Dear Reader,
This writer has had a crazy week. I was twenty-four hours away from moving into a new apartment in San Francisco. One that seemed so perfect for me. The lobby looked like a cross between a museum and a movie set. It sprung into three distinct artistic spaces dotted with velvet chairs, classical Romantic style paintings and tall, bright windows. When the leasing agent mentioned I could rent the space for $50, I immediately dreamt of throwing my magazine launch party there.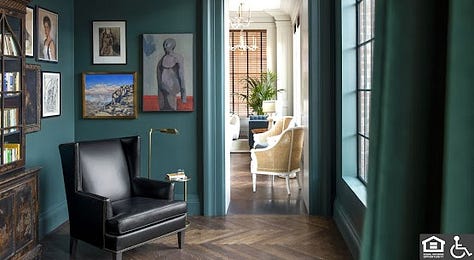 Location-wise, it was perfect too. Bang center between the two football pitches I play at every week. Sat opposite an overpriced-but-quality bakery. A short walk from a speciality Japanese store that sells fresh homemade miso, bento boxes, and teaches food fermentation classes. Parked on a street that gets proper sunlight.
(SF Gurus, can you guess where this is? Tell me in the comments)
The rent deposit had been paid and I was finally on the cusp of some semblance of housing stability—something I craved because I haven't lived in a single place this year for more than six weeks. But then, the apartment fell through last minute because of something out of my control.
So uhh, the rest of my week devolved into a hectic, manic race to find a suitable replacement. Hardly ideal setting for creative work. Long story short, I haven't had the time or mental clarity to pen a new essay for you this week. Instead, my anxious fingers spent their afternoons stress-twisting my braids into knots of worry.
But, there was some light in my week. You guys loved last week's post🥹.
In case you missed it
Last week, I started an Introductions Wall where I asked you all to introduce yourselves and the response has been phenomenal. 61 thoughtful comments from all kinds of interesting people— artists, wanderers, lurkers, corn critics, coffee-haters, oyster deniers, full-time nomads, people conquering new continents. A few fellow writers mentioned they want to steal the idea—please do. I want more people to connect authentically.
So if you didn't get a chance to introduce yourself last week, please check it out. It's a living, breathing wall where you can find your people. Peep it below.
(PS- I'm fine, staying with a friend till things shake out)